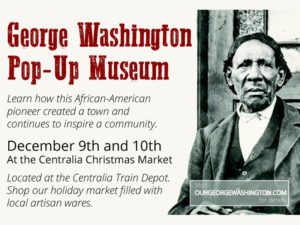 You can find the George Washington Pop-Up Museum on December 9th & 10th at the Second Annual Centralia Christmas Market, located in the historic Centralia Train Depot.
Saturday, December 9th from 9 AM – 5 PM
Sunday, December 10th from 10 AM – 4 PM
Learn more about our history and shop for one-of-a-kind Christmas gifts in our winter wonderland!
And don't miss Centralia's Lighted Tractor Parade on Saturday December 9th, starting at 6 PM downtown. Followed by the Centralia Winterfest Fireworks Spectacular!